Personalized Training


While all steps of this program must be completed in order for you to become completely familiar with the many areas of the broadcasting business, the program is tailored to your individual goals.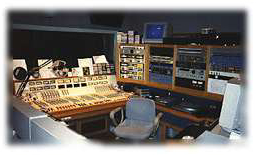 After you have been matched with your broadcasting counselor, you perfect your vocal and writing abilities by practicing and studying the course at home at your own pace. You work directly with your counselor on a one-on-one basis (no distractions of other classmates), your counselor reviews your assignments which, once completed, are submitted to our Headquarters and then to a national broadcaster for final reviewing, critiquing and grading.
All the broadcasters associated with Radio Connection are working professionals. We believe you should be trained by those who are in the business, not by individuals who were in the business.
Training Schedules



The Radio Connection is designed to be completed within 4 to 6 months. You train at your own pace and around your own schedule. However, it should be noted that some applicants are hired before they have finished the program.
Your actual training schedule is determined once you have been interviewed and accepted by the station. Most scheduling involves one or two training sessions each week at the radio or TV station in your area. You'll also spend an hour or two everyday on your own time on the Home Study portion of the program which develops both announcing and writing skills. As you master these important areas, you are laying the foundation for your broadcasting career.