Radio Connection
Employee Trey Alexander
on Hollywood.com


Career Connection counselor Trey Alexander is also deeply involved in the entertainment industry: active in acting, voice-overs, and as a commentator for Hollywood.com.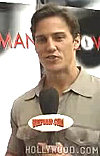 Trey reporting at the
Hollowman premiere


A radio veteran since the age of 17, Trey served as a Career Connection mentor while programming a radio station in Fort Wayne, Indiana. In 1993, he left radio to pursue an acting and voice over career in Los Angeles. A year later he joined the staff of Career Connection as a career counselor, while continuing to act and do voice overs.
Trey has starred in numerous television shows both in special appearances and as a series regular. His credits include "Providence," "Sister Sister" and "Bone Chillers."
Currently you can see Trey on-line as a celebrity reporter for Hollywood.com, interviewing stars like Jim Carrey, Clint Eastwood, Eddie Murphy and Kevin Bacon -- to name just a few.
In spite of all the demands on his time, Trey still works for Career Connection helping people fufill their own dreams in the entertainment industry.

Some of Trey's interviews can be viewed here on Hollywood.com:




INFO:



Current News

News Archives

Employee Spotlight



OTHER SECTIONS:



Home

Info

Video Clips

Contest

Articles

Letters

Radio Resources



Link to Radio Connection







"I began working with Fred Plaster last May. He has since secured a weekend position. And what a great start: to land one's first job in a Top 50 market!"

-- Don London,
Program Director,
WWDE / WNVZ, Virginia



"After the first few weeks of working with Chris Fuhs I was so impressed with him, and the course, that I've hired him as my Production Assistant and On-Air Board Op!"

-- Carl Palmer,
Production Director,
KZOK AM/FM, Seattle