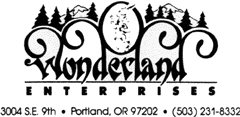 Wonderland Enterprises
3004 S.E. 9th
Portland, OR 97202
(503) 231-8332



Dear Jimmy,
Just wanted to let you know everything's going great at Blue Dog for me. Bruce is a great guy to work with. I wish I could spend more time there, but it's tough when you have to work full time at a totally unrelated job. This will change because I strongly believe in my abilities and I have much to contribute. After all these years playing in bands, co-writing, producing and engineering jingles and novelty songs for the radio, I finally am gaining the knowledge I should have had years ago. I never had any training from anyone, so it's been self taught, trial an error and fly by the seat of my pants.
Since I first talked to you and got involved with Recording Connection, that's all changing. I have learned lots on my own over the years, but I always knew there was oh, so much.
I really enjoy working with and learning new equipment, and realize I need to continue gaining hands on experience because in this business there is no substitute.
I'm excited about expanding my digital 8-track set-up as soon as I can, and in the meantime, work my way back into what I've loved and been involved with all my life: Music!
Recording Connection has given me that opportunity.
Thanks for everything Jimmy. Stay in touch.
Sincerely,



Steve Asplund





LETTERS:



Letters Index

Wonderland Enterprises



OTHER SECTIONS:



Home

Info

Video Clips

News

Contest

Articles

Recording Resources



Link to Recording Connection







"Ralph Mejia is now a permanent part of our staff. He became an invaluable asset to this company even before completing the Recording Connection course."

-- William M. Garcelon,
Chief Engineer,
Chicago Trax



"Recording Connection is unique in its integration of the educational and the professional elements of recording."

-- Geo Greene,
Studio Manager,
Chung King Recording