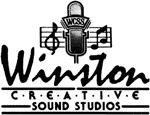 Winston Creative Sound Studios
3207 Chatfield Place
Wichita, Kansas 67208
(316) 684-1787



December 8, 1997



Hello Jimmy:
First of all let me say thanks for inviting our studio to be a part of the Recording Connection internship and student training program. I have found the instructional materials to be quite complete in teaching the fundamentals of the recording industry. I can honestly say that I have even learned a few things from the course instructional materials.
We have enjoyed working with our first student; April McClure, she has been very committed to learning the recording business. I can truly say that April is one of those kinds of people that you would want to have on your team. She's punctual, responsible, and dedicated to her chosen field of interest. She seems to be very focused and highly motivated in pursuit of her career.
As a result of April's commitment to learn, we have entered into an agreement with her to continue working with our studio on a commission basis. In addition to her continued employment with our studio, April has also been asked to "head up" the new digital recording facilities at Butler County Junior College in El Dorado, Kansas (a suburb of Wichita). She has been rewarded with a fully paid scholarship from the college in payment for her recording engineer position with Butler County College. April's future plans are to own a studio and is working on a Business degree at the college.
Again, thanks Jimmy for inviting us to be a part of training tomorrow's recording engineers! We look forward to working with your program to train additional aspiring students in our area.
Sincerely,



Mark Winston