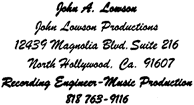 Hello Jimmy,

After careful review of your program, credentials, and many years of successful students, I am compelled to write this letter. You see I am a Recording Engineer with many years of experience.

Just for the record (no pun intended), my credits include work with Roger Waters, Lou Gramm, Brian Wilson and many more. Most recently I was nominated for a "Grammy" for "Best Engineered Album" non-classical. The nomination was for my engineering efforts on John Fogerty's album "Blue Moon Swamp," which did won the Grammy for "Best rock Album." I had worked on that record for almost five years.

I have been approached several times over the years to speak at Seminars at Recording Schools. I have done so on occasion because I believe that the students should be aware of certain things.

I basically share my own experience with them, explaining that I also went to a recording school, but my real education began when I started working as an intern, meaning for free, at a real recording studio. The process was somewhat frustrating because the studio owner and engineers were not really concerned with my progress. I had to be very patient and work very hard to learn anything more. What I did learn though was how to actually be a recording engineer. The real world experience is what did it for me.

Jimmy, I am both relieved and excited that your program exists, and is put together so well. I know, from my own experience, that this is the absolute best way to learn recording. The real world experience is priceless and the fact that the studio has a financial interest in the student is fantastic. I wish, I would have known about your program 15 years ago.

I want your prospective students and instructors to know that I fully recommend the "Recording and Radio Connection," and believe that anyone who gets involved with this now, will have a great chance for success.

Best Regards,



John A. Lowson