Landmark Recording
2600 Church Ave.
Cleveland, Ohio 44113
(216) 696-3277



Dear Jim,
Thanks for having us on board for your Recording Connection Audio Engineer's course. Both Dave Bastian and I were happy to be part of Brian Zietlow's introduction into the world of audio engineering. The combination of comprehensive course work, and hands on training in an active audio facility has given Brian the chance to experience a wide spectrum of situations including: Advertising & Music Session setups, mastering & digital editing, dubbing and the general daily functions of the studio.
Recording Connection's concept of placing prospective students in educational as well as professional situations has opened doors for many including Brian. Because of his affiliation with Landmark Recording Inc., Brian was able to interview for and land a position with one of the largest duplication and tape supply facilities in the region, The Little Warehouse.
We are confident Brian will do quite well in his new position and grow to become a major contributor to the operation of any audio facility. His outside interest in music and operating his own studio in the future, coupled with his studies from Recording Connection will drive him to excel in his new career. Congratulations on another success story, we were glad to be part of it.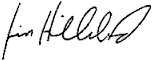 Jim Hillenbrand
President
Landmark Recording Inc.