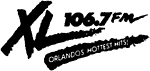 WXXL
337 S. Northlake Blvd., Suite 1024
Altamonte Springs, FL 32701
407-339-1067
407-339-2055 (fax)



Dear Jim,
Here's another radio story for ya.
Two short years ago I stumbled across your ad in a local newspaper. I'd always wanted to do radio, but had no idea how to get "THAT BIG BREAK." Taking a chance, I answered the ad. Since then my career has sky rocketed! The last two years of dedication have paid off. I worked in Fresno, California for a year and a half. Now I'm in beautiful Orlando!!!!
I think the Radio Connection course is perfect for anyone with the desire to work in "THE BIZ." It starts you out on the right course, the rest is up to you. If you're willing to put in 100%, then go for it!!
Newcomers: any questions? Call me!!
We'll do lunch, On you , of course!
THANKS JIM,


Stephen L. Tate
Dude in radio
P.S. If anyone does call, my Radio Air Name is "Kid Cruise." Just ask for the "Kid Cruise."