WLRT / WKAN
Two Dearborn Square
Kankakee, IL 60901
815-935-9555
815-935-9593 (fax)



Dear Jim,
Over the years I have been curious about how your company operates. How you are able to offer a course in radio to individuals in the mid-west while your company is based in California? I was aware that you teamed up the student with a local radio station. But, how well could that work?
To my pleasure (not surprise), it works very well! By teaming up the student and a radio station, you give one the chance to learn the business of radio and you give the other a chance to develop local talent. I'm very pleased to tell you that one of "our" students, Dave Becker, has joined the staff of WLRT. Though his position is part time, Mr. Becker has begun his radio career and we have gained a valuable employee. An employee that I can see growing in his position whether he stays with us or is stolen by another station.
I must emphasize, it is crucial that the student take the course seriously and spend the time that is needed to complete the assignments. Don't rush. As you know, I have already accepted additional students, and I must say they are showing the same enthusiasm and commitment as Mr. Becker.
I want you to know that I am willing to discuss your course with those considering being instructors.
Sincerely,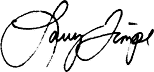 Larry Timpe
Operations Manager





LETTERS:



Letters Index

WLRT / WKAN



OTHER SECTIONS:



Home

Info

Video Clips

News

Contest

Articles

Radio Resources



Link to Radio Connection







"Working one-on-one with my students -- teaching them the real world of radio -- is very rewarding to me and the best education for them."

-- Mike Webb,
Music Director,
KVI, Seattle



"After the first few weeks of working with Chris Fuhs I was so impressed with him, and the course, that I've hired him as my Production Assistant and On-Air Board Op!"

-- Carl Palmer,
Production Director,
KZOK AM/FM, Seattle