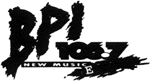 KBPI
1380 Lawrence Street, Studio 1300
Denver, Colorado 80204



November 8, 1996



Jimmy,

This letter will serve as your notification that Jessica Stout was hired by Jacor Broadcasting in Denver as a part-time air personality on August 1, 1996.
Jessica has been working on KBPI since that time, and is doing a great job.
Feel free to call me if you have any questions.
Sincerely,



Bob Richards